Glücksmomente
It's more than just a switch from a printed catalog to a digital edition: With a cross-media content platform, Munich-based tour operator FTI Touristik wants to give travel agencies a completely new form of advice.
Ramiro Reixelo
Company website
Your experienced specialist in all aspects of tile work and repairs, bathroom and kitchen modernization, sealing technology as well as plaster and screed work - so that you can enjoy your home for a lifetime.
View now
IGEPA group
selection.blog: Projects, minds and ideas
IGEPA's new creative blog has recently gone online. It aims to be a source of inspiration and encouragement, a provider of ideas and an information platform, a tracker of trends and an appreciator.
View now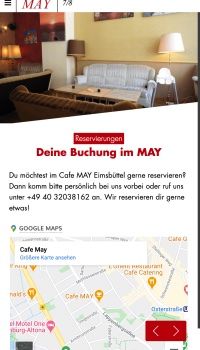 Cafe MAY
Menu and drinks
Welcome to Cafe May in Eimsbüttel! On our menu you will find our offer of delicious food and drinks as well as the possibility to reserve a table.
View now
Examples
Let yourself be inspired by our impressive projects.
View examples
Pricing
Receive a customized and non-binding offer for your project.
View pricing